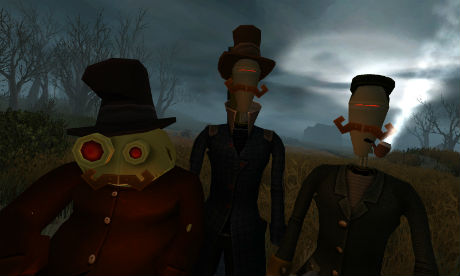 Six months ago, I talked about an indie game in development called
Sir, You Are Being Hunted
, a sci-fi "tweedpunk" roguelike game where you must evade capture from murderous robots who are hunting you across a procedurally generated English countryside. Big Robot, the company behind the game, had started a Kickstarter campaign to fund the game and try to get the project off the ground that much quicker. The campaign succeeded (to a tune of over 200% success) and the game was pushed into more serious development.
Well, six months later and the backers of the campaign (of which I was one) were alerted that the game had finally reached a playable state and that alpha tests would be distributed to those who backed the project at a certain level. The emails sent from the Big Robot team were circulated within the last week and on Monday the actual content was distributed to the backers!
I mention this only because I am planning to record a series of Let's Play-style videos to showcase my efforts in
Sir, You Are Being Hunted
and plan on sharing them here on
Loading Checkpoint
. The first two videos have been recorded already and will be processed in the next few days, with more to follow! This is all permitting the Big Robot team doesn't have any issues with me recording such footage, that is. Don't want to step on any toes!
(Also, I have to give huge kudos to the Big Robot team for developing this game and for succeeding in their campaign! Cheers, gents!)
So stay tuned, you fine folk; soon enough you'll be able to experience the fear of being hunted by cold calculating robots vicariously through my own eyes!